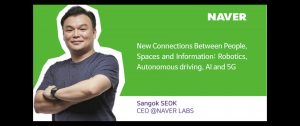 25th November 2019, Station F Master Stage, Paris, France.
18:30-19:30 Keynote, Q&A
19:30-20:00 Networking
NAVER LABS CEO, SangOk SEOK keynote at Station F,  the world's largest start-up campus.
A-CITY, the future of the autonomous city
Explore the NAVER LABS project A-CITY, whose challenge is connecting individuals, spaces and information. In the city of tomorrow, different types of robots will enable the automation of services. NAVER LABS is working on founding the technologies to enable this vision: robots adapted to different kinds of use, 5G for high-speed data collection and analysis, AI to make sense of the information and take decisions and autonomous driving to ensure smart travel.
1784, the building of the future
A building where humans and robots work in harmony is the ambitious project of NAVER, 1784. The construction of this first-of-a-kind building has already started and the challenge is huge. 1784 will facilitate office work through a high-rise connected building, where robots will play a leading role. This building will be just one block in the newly announced 'Global AI R&D Belt', a technology network between France, South Korea, Japan and Vietnam.