RunAhead Blog
Humans at the Centre of HRI
International Symposium

Organised by NAVER LABS and INRIA, November 14-15, 2022

Recordings of all talks and panel sessions are available

Seminar:

Talking with Robots: Are we nearly there yet?
4th April 2023.
Speaker: Roger Moore, professor of Spoken Language Processing, University of Sheffield. Virtual seminar. Please register.
4 April 2023

Seminar:

Sketching and topological organization of sparse vectors for probably approximately correct maximum inner product search
28th March 2023.
Speaker: Sebastian Bruch, staff research scientist, Pinecone, USA and visiting scholar, Università Ca' Foscari, Venice, Italy. Virtual seminar. Please register.
28 March 2023

The Eleventh International Conference on Learning Representations (ICLR) 2023
1st - 5th May 2023, accepted spotlight paper: No reason for no supervision: Improved generalization in supervised models.
1 May 2023
Conference on Computer Vision and Pattern Recognition (CVPR), Vancouver, Canada, 18-22 June, 2023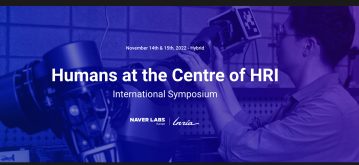 This article summarizes the 2022 HRI symposium, organised by NAVER LABS Europe and INRIA. The multidisciplinary event brought together researchers and practitioners from various fields to discuss the latest developments in the domain of human-robot interaction (HRI).

This blog article by Laurent Besacier covers the INTERSPEECH 2022 papers he was most interested in based on his current research interests in self-supervised speech models, scaling speech-to-text models, large language models and ASR architectures and end-to-end speech to text translation.

NAVER LABS Europe, together with colleagues from NAVER, LINE and WEBTOON will be in New Orleans. Visit the NAVER booth for job opportunities, internships, tech demos and more! 17 papers, workshop keynotes. 
GLOBAL AI R&D BELT
​
ACADEMIA – EU/GOVT – ENTREPRENEURS
Our partnerships range from long-term fundamental research to investment in products and services.