We create new connections through advanced research and technology in vision, text, machine learning, UX and ethnography.
Our multidisciplinary approach to AI allows us to tackle challenges from different perspectives and gives greater meaning to our work.
Connect to our online seminars given by expert speakers from around the world
Data, code and models released by NAVER LABS Europe.
International Conference on Learning Representations (ICLR), Kigali Rwanda, 1–5 May, 2023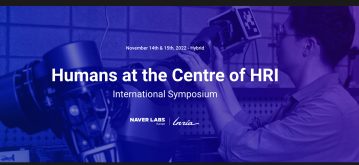 This article summarizes the 2022 HRI symposium, organised by NAVER LABS Europe and INRIA. The multidisciplinary event brought together researchers and practitioners from various fields to discuss the latest developments in the domain of human-robot interaction (HRI).

This blog article by Laurent Besacier covers the INTERSPEECH 2022 papers he was most interested in based on his current research interests in self-supervised speech models, scaling speech-to-text models, large language models and ASR architectures and end-to-end speech to text translation.

The NAVER LABS Europe Search and Recommendation team is presenting work on fairness in ranking and on sparse neural rankers such as SPLADE at this year's SIGIR conference.

1
st
- 5
th
May 2023, accepted paper: Improving the generalization of supervised models.

2
nd
- 6
th
April 2023, Dublin, Ireland. Presenting 5 papers on IR and search & recommendation

16th -  20th January 2023, virtual event Co-organized by LIG (University Grenoble Alpes) and NAVER LABS Europe
NAVER Labs Europe is a hub of NAVER's global AI R&D Belt, a network of centres of excellence in Korea, Japan, Vietnam & Europe. By collaborating with different partners we aim to make AI technology in South East Asia and Europe more competitive.

Our scientists collaborate with national and international partners, academics and businesses to solve problems and invent technology and services that will have impact in the real world.
Discover how our research is recognized.